Sherlock Holmes and the Clocktower Mystery Exhibition
Sherlock Holmes and the Clocktower Mystery is a highly interactive and wildly entertaining murder-mystery that will test visitor's powers of observation and deductive reasoning. Visitors will need a thinking cap and deerstalker to solve this baffling mystery. The exhibit is ideal for older children and adults and is especially suitable for family or group participation.
As visitors enter the exhibit, they find themselves transported back in time into Sir Arthur Conan Doyle's Victorian London. The darkened exhibition spaces are filled with the sounds of hansom cabs, street vendors and distant foghorns. With pencil and exhibit guide in hand visitors set off to follow the story of the Clocktower Mystery as told by Dr. Watson himself!
The mystery is told in eight "chapter" sets each representing a different location. The first is the inside of the clocktower where a murder has taken place. The other seven sets range from a seamy dockside garret to Conan Doyle's elegant study. While walking through the sets, visitors are given clues to the mystery, carefully placed as physical evidence amongst the many period objects in the room, hand-written police reports, overheard sound interviews, printed summaries of the events and even telltale odors. Each scene is laden with clues and "red herrings."
Once visitors think they have solved the mystery and know the name of the murderer, they enter into the study of the Victorian detective himself, Sherlock Holmes, (who is played by a live actor). The visitor's conclusions are discussed, and the mystery is solved in a dramatic finale.
Visitors to the exhibition are exposed to reading, deductive reasoning and physical sciences and are given a painless lesson in the scientific method of problem solving. Careful observation of sights sounds and smells as well as intellectual probing are required to become a master sleuth. The exhibit is "turn-key" and comes complete with all walls, furniture, decorative and architectural elements, instructions, script, clues, smells, lights, a live actor and sounds to make a successful exhibit.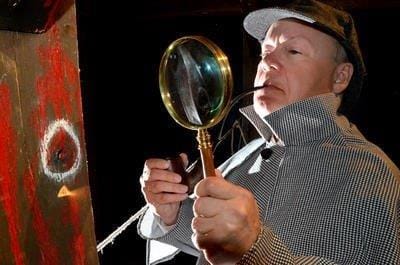 $27,500.00 for normal 3-month venue
4,000 sq. ft., very flexible
Ceiling Height requirements:
Incoming transportation for one truck
WW provides on-site supervisor for setup and takedown, Institution to provide 3 helpers. 4 days for setup and 3 days for take-down
Traveling Exhibition History:
Insights Museum, El Paso, TX
Midland Center for the Arts, Midland, MI
New Mexico Museum of Natural History, Albuquerque, NM
COSI, Columbus, OH
Kansas City Museum, Kansas City, MO
Science Center of Iowa, Des Moines, IA
Vancouver History Museum, Vancouver, Canada
Discovery Center, Prestonsburg, KY
Witte Museum, San Antonio, TX
Minnesota Science Center, St. Paul, MN
Maryland Science Center, Baltimore, MA
Gulf coast Exploreum, Mobile, AL
Science Center, Halifax, NS, Canada
Grey Roots Science Center, Owen Sound, ON, Canada
May Museum, Reno, NV Fleet Science Center, San Diego, CA
Don Harrington Discovery Center, Amarillo, TX
Discovery Museum, Bridgeport, CT
Berkshire Museum, Pittsfield, MA
Science City, Toledo, OH
Science Museum of Virginia, Richmond, VA
Danville Science Center, Danville, VA
Discovery Center, Springfield, MO
Frazier Arms Museum, Louisville, KY
Health Adventure, Asheville, NC
Oshkosh History Museum, Oshkosh, WI
Lakeview Museum, Peoria, IL
Discovery Center, Rockford, IL
Mississippi Aquarium and River Museum, Dubuque, IA